Visit LA County Parks this fall for an amazing autumn filled with recreation and adventure!
We are offering a variety of new, FREE and paid programs for youth and families, ranging from sports clinics and nature exploration programs to aquatics and many other exciting programs that you'll find below. Whether it be one or all of these activities, there's something for every body this fall with LA County Parks!
YOUTH SPORTS LEAGUES
Dates and Time Vary on Sport and Location
All youth deserve the chance to play sports! From soccer  to lacrosse and from flag football to cheerleading LA County Parks is proud to offer something for everyone at the low cost of $25 per youth league. Learn more and register today at reservations.lacounty.gov.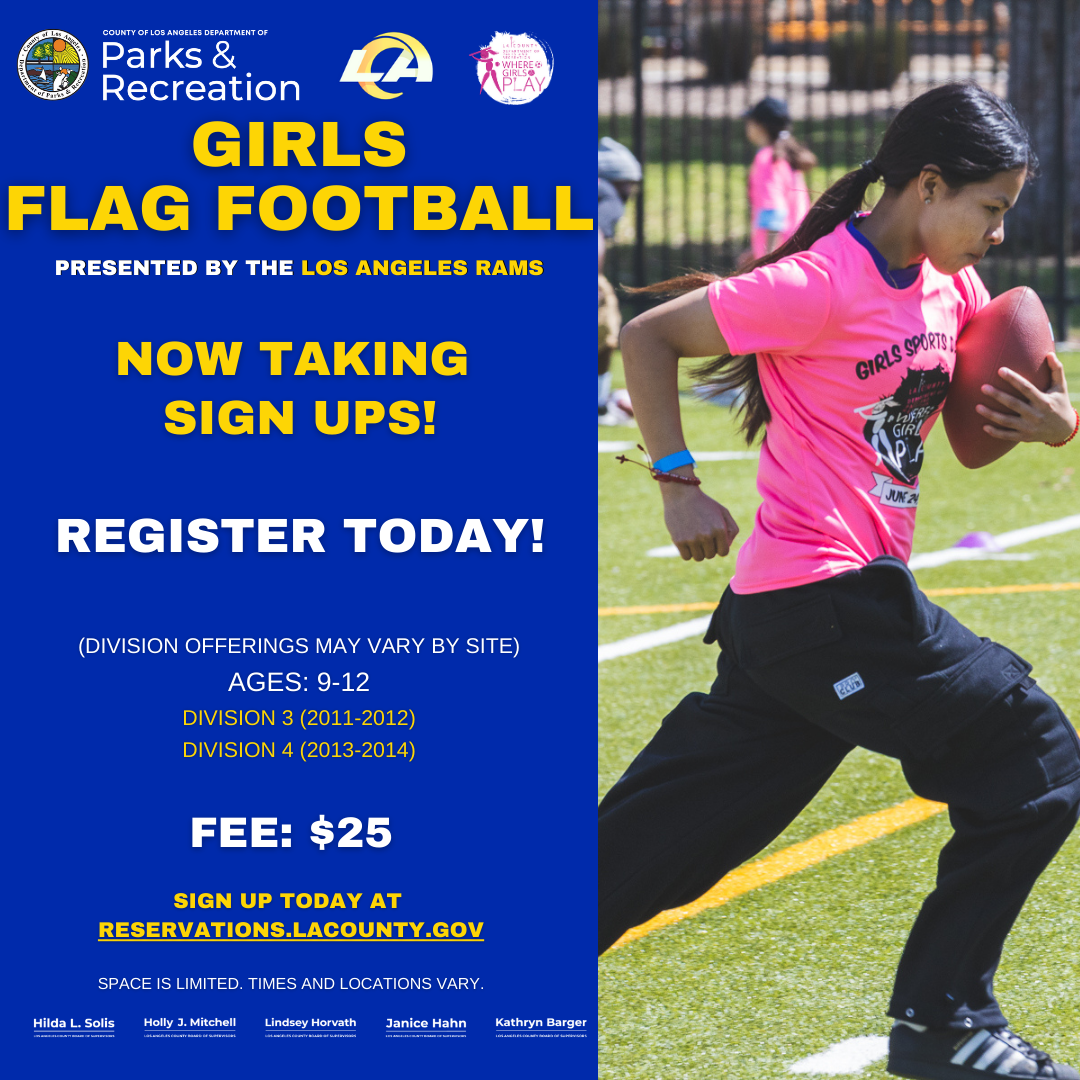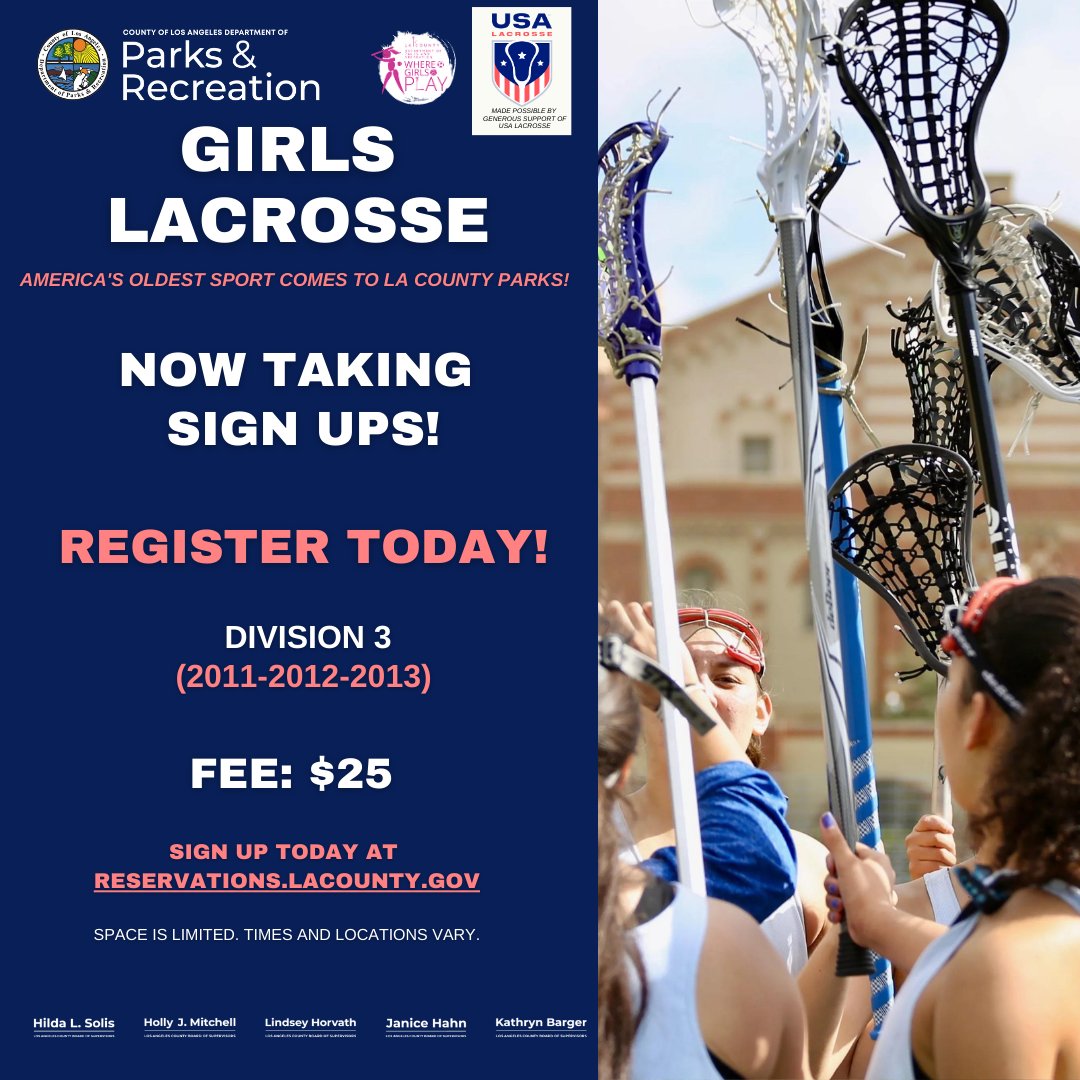 September 5, 2023 – May 24, 2024
MONDAY – FRIDAY: 2:30PM – 5:30PM
Participate in fun, fall afterschool activities for FREE at your local LA County Park! Join us one at one of 56 LA County Parks locations for our Every Body Plays Afterschool Adventures program that offers a safe space where youth can come play, create friendships and partake in activities such as fitness, arts, games, creative outlets like storytelling and ESTEAM. Youth can also enjoy a free snack at the park with their friends at select parks from 3-4 pm daily. . Every day is an adventure in LA County Parks! Sites will observe all County holidays and the program is closed November 22-26 and December 20-31.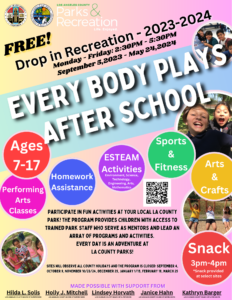 FREE SNACK PROGRAM
MONDAY – FRIDAY | 3-4PM
Youth 18 years old and younger can enjoy a healthy lunch and snack at select LA County parks. Kids are invited to receive free nutritious lunch and snacks that include vegetables, fruits, seeds and healthy dairy products like milk, string cheese and yogurt. The program is designed to promote a healthy lifestyle, elevate energy levels and ensure children do not go hungry while playing at the park. Created to help reduce the growing percentage of young people in the United States challenged by obesity or lack of consistent access to wholesome meals, the program aims to provide a healthy alternative for youth while school is out for the summer.
FALL CONTRACT CLASSES | Registration Required
LA County Parks and Recreation has teamed up with some of the best instructors in Los Angeles to bring you hundreds of classes for all ages, levels and budgets. Whether you're looking to be more active, learn a new hobby or take up a new skill or language, we have just the class to help you and everyone in your family achieve your fall goals. LEARN MORE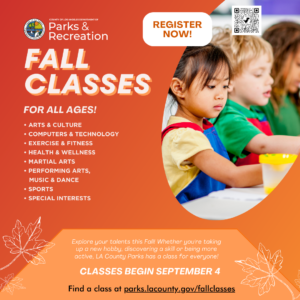 Our SPOT
MONDAYS – FRIDAYS | 3 – 7PM
Our SPOT is a FREE, safe place for all teens in grades 7th-12th to connect and make a real difference in their communities through social action projects. Social Places and Opportunities for Teens supports positive youth development through recreational experiences offered by caring and trained staff who serve as mentors. Youth explore their identify and build confidence through social conscious curriculum on topics related to trauma-informed care and substance abuse prevention. Weekly artist experiences provide a space for youth to take up issues they care about using an artistic lens. LEARN MORE
SENIOR CENTERS AND PROGRAMS
MONDAY – FRIDAY / Hours vary by location
LA County Senior Centers, Programs and Activities are a great place for adults ages 60+ years to stay fit, active and to meet new people. Activities promote physical and mental well-being, socialization, nutrition, life-long learning and volunteer opportunities.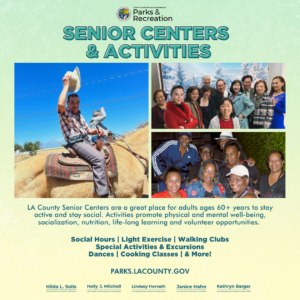 CULTURAL & COMMUNITY EVENTS
HISPANIC HERTIAGE MONTH
September 14 – October 14
Join us at one of our parks this month to celebrate the many accomplishments of Latinos! From Mexico to Central America and from South America to the Caribbean and to the Chicanos right here in America and beyond!
HARVEST FESTIVAL
Days and times – TBA
Join LA County Parks  for some fall fun! Our Harvest Festival returns this year with cultural celebrations including food tasting, dancing, music, crafts, children's story corner & family games. Please call your park for more info.
LEARN TO SWIM – Dates TBA
MONDAY – FRIDAY / Morning and Evening
SATURDAY / Morning and Afternoon
Swim lessons teach core swimming skills including water safety, floating and stroke technique while developing a lifelong appreciation of the water and a lifetime of healthy habits. The program is designed to provide swimmers with a positive learning experience while steadily progressing through the core skills and strokes. All levels are in alignment with the American Red Cross' "Learn To Swim" Program. REGISTER HERE.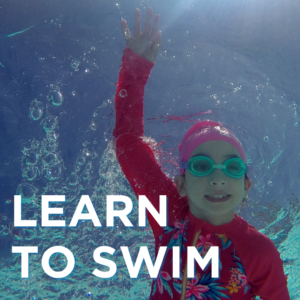 EVERY BODY SWIMS
SATURDAYS / 2:00PM – 4:00PM
Recreational Swim is a fun and positive way to practice new skills, be physically active, keep your heart rate up, reduce stress and build muscle. This program also provides an opportunity to socialize and make new friends. Visit a pool today and begin enjoying this fun and healthy activity! Drop in for FREE – No registration required.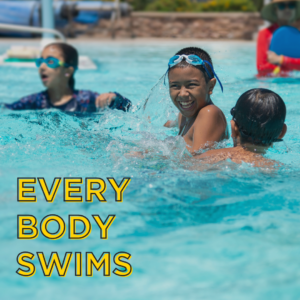 WATER EXERCISE – Dates TBA
AGE GROUP: 18 AND OLDER
Come and enjoy this is an instructor led aquatic exercise program that allows the participant to get a great workout without the impact on joints and other body parts that traditional aerobics classes create. This program and is conducted in both deep and shallow water. Participants must be comfortable in the water and have a proper swim attire. And as an added bonus, Seniors and Persons with Disabilities can enroll in our morning sessions for FREE! Find a pool near you today!
Pre-registration is required! Click HERE to sign up.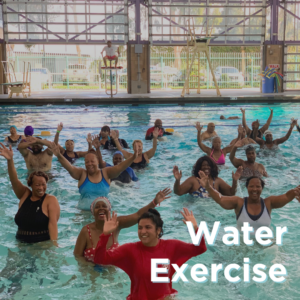 EVERY BODY EXPLORES
TUESDAY – FRIDAY / 2:30p.m. – 5:30p.m.
SATURDAY / 10:00a.m. – 1:30p.m.
ALL AGES WELCOME
The Every Body Explores program provides participants of all ages an opportunity to check out a Naturalist field backpack that they can use to complete self-guided activities, make observations and explore the park. Check out a nature backpack with us today!
NATURE CENTER DISCOVERY
Saturdays – 10AM & 12PM
Join us Saturday mornings for a meet and greet with a Natural Areas Superintendents! Learn more about your nature center, ask questions and find out fun ways to make the most of your visit. You'll even meet some animal ambassadors along the way.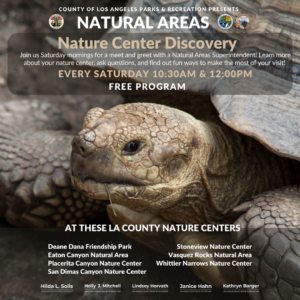 NATURE KNOWLEDGE NIGHTS
Dates Vary | 6 -7 PM ALL AGES WELCOME
Spend an evening getting to know the beauty of the natural world around you at a Los Angeles County Nature Center. Activities vary based on topic but may include ESTEAM fundamentals, community science, nature hikes, environmental knowledge presentations, or animal ambassador experiences.