It's Park Time!
Explore • Engage • Connect
Visit LA County Parks this fall for fun in the sun, recreation and adventure! We are offering a variety of new, FREE and paid programs for youth and families, ranging from sports clinics and nature exploration programs to aquatics and many other exciting programs that you'll find below. Whether it be one or all of these activities, there's something for every body this fall with LA County Parks!
TRICK OR TREAT VILLAGE – October 25-29, 2022
Days and times – TBA
FREE – No registration required.
SPORTS FOR ALL – October 1, 2022 – November 19, 2022
EVERY SATURDAY
All youth deserve the chance to play sports! LA County Parks is proud to offer FREE sports clinics for youth at more than 20 park locations. Each clinic lasts one to two hours, with clinics focusing on building foundational skills, self-confidence and teamwork over the course of the eight-week program. Led by LA County Parks recreation staff, local youth ages 6-12 years are encouraged to have fun, exercise and develop a love for being active through sports.
Pre-registration is required! Click HERE to sign up.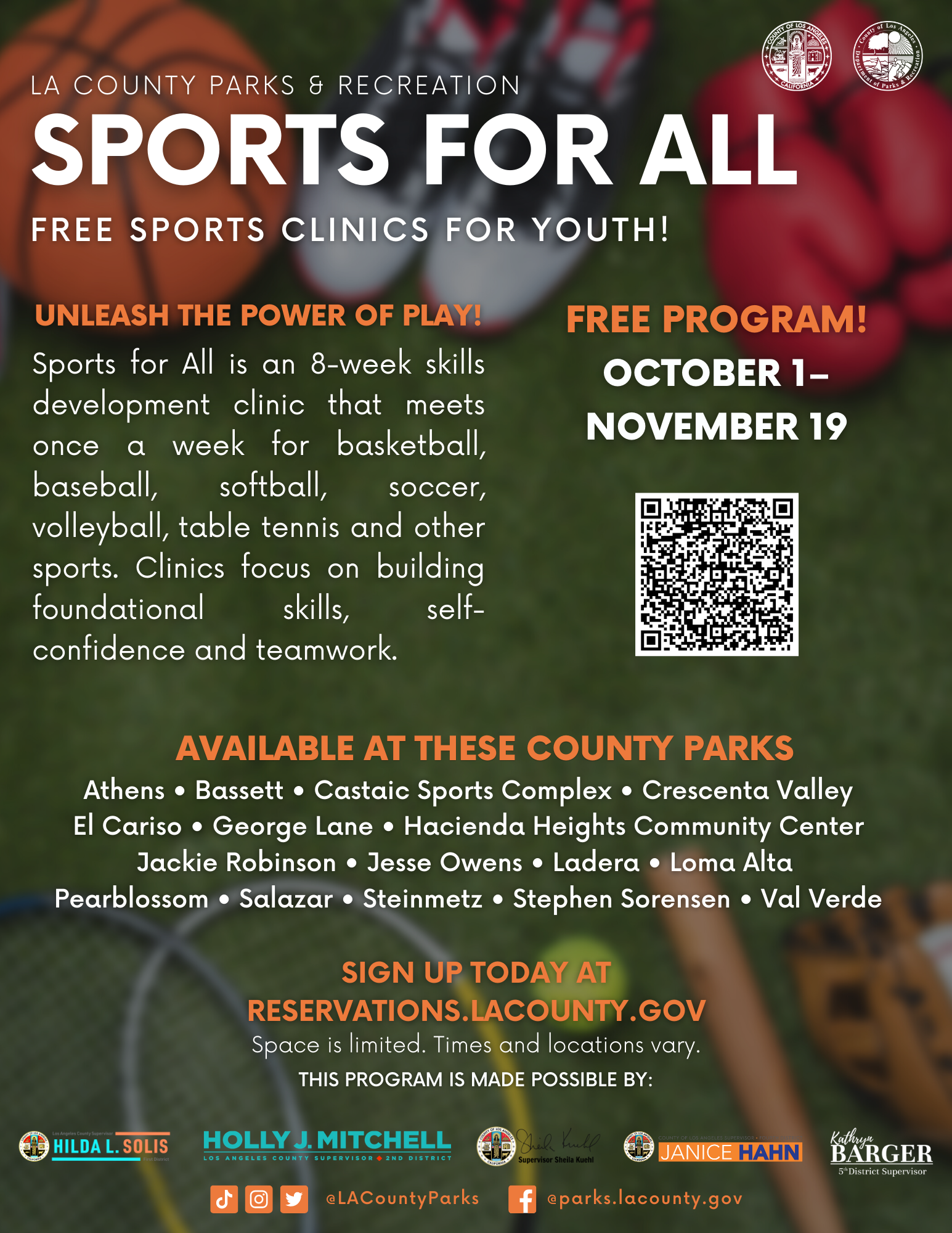 ​
EVERY BODY PLAYS DROP-IN RECREATION ADVENTURES– October 1, 2022 – November 19, 2022
MONDAY – FRIDAY: 2:30PM – 5:30PM
Participate in fun, fall afterschool activities for FREE at your local LA County Park! Join us one at one of 56 LA County Parks locations for our Every Body Plays Drop-In Afterschool Adventures program that offers a safe space where youth can come play, create friendships and partake in activities such as fitness, self-care, sports, arts, games, creative outlets like storytelling and ESTEAM (Environment, Science Technology, Engineering, Arts and Math). Youth can also enjoy a free snack at the park with their friends at select parks from 3-4 pm daily. Every Body Plays is a positive space with a curriculum that is youth centered and designed for fun! Connect with LA County Parks staff at each location for more information and for assistance.
Every Body Plays provides youth ages 7-17 with access to caring and trained park staff who serve as mentors and lead an array of programs and activities. Every day is an adventure in LA County Parks! Sites will observe all County holidays and the program is closed November 22-26 and December 20-31. All COVID-19 safety guidelines are enforced.
FREE – No registration required.
RECREATION FOR ALL – September 6, 2022 – May 20, 2022
TIME SLOTS AVAILABLE: Tuesday thru Thursday, 5:30 pm–7 pm, Friday, 5:30 pm-6:30 pm and Saturday, 2 pm-4 pm
ALL AGES WELCOME
Recreation for All is a FREE 35-week program that provides participants of all ages with access to caring and trained park staff who serve as mentors and lead an array of classes and activities. These classes range from cheer, dance, sports clinics, fitness, computer classes, parent and me, story time and so much more. A variety classes can be offered at the sites throughout the week. Find a class near you today!
Pre-registration is required! Click HERE to sign up.
AQUATIC EXERCISE AND AQUA AEROBICS – Dates TBA
AGE GROUP: 18 AND OLDER
Come and enjoy this is an instructor led aquatic exercise program that allows the participant to get a great workout without the impact on joints and other body parts that traditional aerobics classes create. This program and is conducted in both deep and shallow water. Participants must be comfortable in the water and have a proper swim attire. And as an added bonus, Seniors and Persons with Disabilities can enroll in our morning sessions for FREE! Find a pool near you today!
Pre-registration is required! Click HERE to sign up.
EVERY BODY SWIMS – Beginning September 3, 2022
SATURDAYS / 2:00PM – 4:00PM
Recreational Swim is a fun and positive way to practice new skills, be physically active, keep your heart rate up, reduce stress and build muscle. This program also provides an opportunity to socialize and make new friends. Visit a pool today and begin enjoying this fun and healthy activity! Drop in for FREE – No registration required.
LEARN TO SWIM – Dates TBA
MONDAY – FRIDAY / Morning and Evening
SATURDAY / Morning and Afternoon
Swim lessons teach core swimming skills including water safety, floating and stroke technique while developing a lifelong appreciation of the water and a lifetime of healthy habits. The program is designed to provide swimmers with a positive learning experience while steadily progressing through the core skills and strokes. All levels are in alignment with the American Red Cross' "Learn To Swim" Program. REGISTER HERE.
SENIOR CENTERS AND PROGRAMS
MONDAY – FRIDAY / Hours vary by location (see flyers below)
LA County Senior Centers, Programs and Activities are a great place for adults ages 60+ years to stay fit, active and to meet new people. Activities promote physical and mental well-being, socialization, nutrition, life-long learning and volunteer opportunities.
​FALL CLASSES – START SEPTEMBER 5, 2022
Whether you're taking up a new hobby, learning a new skill or being more active, LA County Parks invites you to join Fall Classes for all ages! We're offering a variety of in-person and virtual classes to help you get active, stay healthy, and enjoy a new hobby. From yoga and sports to music and arts, there is a class for everyone!
CLICK HERE or on the button below for more information.
EVERY BODY EXPLORES
TUESDAY – FRIDAY / 2:30p.m. – 5:30p.m.
SATURDAY / 10:00a.m. – 1:30p.m.
ALL AGES WELCOME
The Every Body Explores program provides participants of all ages an opportunity to check out a Naturalist field backpack that they can use to complete self-guided activities, make observations and explore the park. Check out a nature backpack with us today!
GUIDED HIKES 
VARIOUS DATES – SEE FLYER FOR MORE INFO
ALL AGES WELCOME
Get outdoors, be active, and go on a guided hike! Guided hikes are opportunities for families, groups or individuals to experience a hike through our Natural Areas parks with a trained Naturalist. Hikes promote positive connections with nature and the world around us, conservation and climate education, physical and mental well-being, and socialization.
Pre-registration is required! Click HERE to sign up.
EVERY BODY EXPLORES CREATURES OF HALLOWEEN – OCTOBER 29, 2022 / 10:30a.m. – 3:30p.m.
ONE LOCATION ONLY (Eaton Canyon Nature Center)
ALL AGES WELCOME
Everybody Explores Creatures of Halloween, is a fun way to explore and understand wildlife associated with Halloween. Learn with our animal experts and naturalists from various nature groups. Animal Ambassadors will be making appearances throughout the event. Enjoy "Grab and Go" nature crafts and fun, educational activities. Make sure to grab a photo with our Halloween decor for a special memory. Halloween costumers encouraged!
CELEBRATIONS IN NATURE – AVAILABLE EVERY SATURDAY AND SUNDAY
REQUESTS MUST BE SUBMITTED 14 DAYS IN ADVANCE
TIME SLOTS AVAILABLE: 9:00a.m. – 12:00p.m. / 1:00p.m. – 4:00p.m.
ALL AGES WELCOME
Having a birthday, anniversary, reunion or other special celebration? Celebrate in nature! Celebrations in Nature offer an opportunity to meet a naturalist and a few of our animal ambassadors, discover the natural history of our wildlife, explore the natural world on a guided hike and build a nature related project that can be taken home. For more information connect with LA County Park staff at one of the following locations.
For more information, connect with LA County Parks staff by phone or in person at the location your interested in.