It's Park Time!
Explore • Engage • Connect
Visit LA County Parks this Summer for fun in the sun, recreation and adventure! We are offering a variety of new, FREE and paid programs for youth and families, ranging from sports clinics and nature exploration programs to aquatics and overnight camping at the park. Make LA County Parks your destination for summer activities!
This summer participants can register for classes, swim lessons, sports programs family camping or even rent a facility online 24/7.  For the convivence of our park goers, all registration must be competed online via ActiveNet. Get started by setting up an account today at Los Angeles County Online Reservations and Registration (activecommunities.com). Drop-in programs do not require registration.
Click below links for video tutorials on Active Net:
ENGLISH: VIDEO TUTORIAL – HOW TO CREATE AN ACTIVE NET ACCOUNT
SPANISH: VIDEO TUTORIAL – HOW TO CREATE AN ACTIVE NET ACCOUNT
ENGLISH: VIDEO TUTORIAL – HOW TO REGISTER FOR A CLASS/ACTIVITY
SPANISH: VIDEO TUTORIAL – HOW TO REGISTER FOR A CLASS/ACTIVITY
PARKS AFTER DARK – No registration required
Parks After Dark returns for the summer season with FREE activities at 34 LA County parks. Bring your family and friends to an LA County Parks location for a summer concert, movie night or a variety of programs for all ages and interests, including sports, fitness, wellness, educational, food, games and more! Click here to learn more.
EVERY BODY PLAYS DROP IN SUMMER ADVENTURE
MONDAYS – FRIDAYS 11:00 AM – 4:30 PM
Every Body Plays is a positive space with a curriculum that is youth centered and designed for fun! This FREE 8-week drop-in program launches June 13 and runs until August 5.  Children can enjoy lunch and snack at the park with their friends and family before joining the fun at select parks, lunch will be from 12:00 pm -1:00 pm daily and snack between 3:00 pm – 4:00 pm.  The program provides children ages 7 thru 17 with access to caring and trained park staff who serve as mentors and lead an array of programs and activities.  These activities range from sports, fitness, arts and crafts, STEM, group games, story time and so much more.  Every day is an adventure in LA County Parks!

FREE – No registration required. Click on one of the graphics above (English/Spanish) to learn more.
SPORTS FOR ALL –  Free Registration Required
Dates and times vary by location. Register HERE.
All youth deserve the chance to play sports! LA County Parks is proud to offer FREE sports clinics offered at 25 parks for youth ages 6-12. Have fun, exercise and develop a love for being active with basic skills training in soccer, basketball, baseball, softball and more. Each clinic lasts about two hours. Pre-registration is required.
FREE SUMMER LUNCH & SNACK PROGRAM
Monday – Friday
Lunch is served 12:00PM – 1:00PM; Snacks are served 3:00PM – 4:00PM
Children and youth ages 18 and under receive nutritious lunch and snack that include vegetables, fruits, seeds and healthy dairy products like milk, string cheese and yogurt, at 46 locations throughout LA County.
NATURE CENTER PROGRAMS
EVERY BODY EXPLORES – Free, No Registration required.
TUESDAYS-FRIDAYS 2:50 PM – 5:30 PM AND SATURDAYS 10:00 AM – 1:30 PM
The Everybody Explores program provides participants of all ages an opportunity to check out a Naturalist field backpack they can use to complete self-guided activities, make observations and explore the park.
SUMMER NATURE CAMPS (HALF DAY/TEEN CAMP) – Pre-registration required
Summer Nature Camp provides an opportunity for outdoor adventure and exploration for youth.  Camps are supervised by trained staff and children are kept in groups while practicing physical distancing and other COVID19 safety guidelines to ensure campers have fun while staying safe.  Activities include nature related crafts and games, hiking adventures, cultural arts, natural history, and conservation. This camp experience is designed to promote teamwork, making new friends, building self-confidence, and develop an appreciation and connection to nature. REGISTER HERE

Click on one of the graphics above to learn more.
NATURE KNOWLEDGE NIGHTS – Free; no registration required
Dates vary by location / 6:00 PM – 7:00 PM
Spend an evening getting to know the beauty of the natural world at a Los Angeles County Nature Center. Activities vary based on topic but may include group activities, ESTEAM fundamentals, community science, nature hikes, guided tours or animal ambassador experience.
NATURE CENTER DISCOVERY – Free; no registration required
Every Saturday 10:00AM & Noon
Join us Saturday mornings for a meet and greet with a Natural Areas Superintendents! Learn more about your nature center, ask questions and find out fun ways to make the most of your visit. You'll even meet some animal ambassadors along the way!
NATURE WALKS – Free; Pre-registration required
Dates and times vary by location
Nature Walks are opportunities for families, groups or individuals to experience a walk through a Natural Area Park with a trained naturalist. Walks promote positive connections with nature and the world around us, conservation, climate education, physical and mental well-being, and socialization. REGISTER HERE

ESTEAM SUMMER CAMP – JUNE 13 – AUGUST 19
The Los Angeles County Department of Parks and Recreation, in partnership with the Natural History Museum of Los Angeles County, Beaches and Harbors, and Los Angeles County Public Works, is proud to announce the return of ESTEAM. Campers will connect with the outdoors and explore ESTEAM topics, all with curriculum that is inclusive and supports the development of students. ESTEAM provides campers will have fun learning through group games, arts and culture, technology, field trips, guest speakers, and project-based learning. REGISTER HERE
FREE LUNCH AND SNACK PROGRAM– DATES AND LOCATIONS COMING SOON
Youth 18 years old and younger can enjoy a healthy lunch and snack at select LA County parks. Kids are invited to receive free nutritious lunch and snacks that include vegetables, fruits, seeds and healthy dairy products like milk, string cheese and yogurt. The program is designed to promote a healthy lifestyle, elevate energy levels and ensure children do not go hungry while playing at the park. Created to help reduce the growing percentage of young people in the United States challenged by obesity or lack of consistent access to wholesome meals, the program aims to provide a healthy alternative for youth while school is out for the summer.
SUMMER AQUATICS
JR LAKE LIFEFGUARDS –  JUNE 13 – JULY 28
The Los Angeles County Parks and Recreation Junior Lake Lifeguard Program provides a challenging and exciting open water environment which promotes an active and responsible lifestyle for participants ages 9-17. Lifeguard staff serve as mentors and impart their experience by leading hands-on activities. Youth are introduced to water safety, athleticism, teamwork and potential careers in aquatics. Participants learn from a variety of activities that range from first aid, CPR and water related rescue skills.
EVERY BODY SWIMS – DATES AND TIMES COMING SOON! – Drop in for FREE – No registration required.
Every Body Swims is a fun and positive way to practice new skills, be physically active and spend quality time with family and friends. Water is known to reduce the impact on joints, soothe the mind, body and increase energy levels. The County of Los Angeles offers the program at all County run aquatic facilities. Visit a pool today and begin enjoying this fun and healthy activity!
LEARN TO SWIM  – Registration required
DATES AND TIMES COMING SOON
Our progressive swim lessons teach swimming skills, stroke technique and water safety while encouraging a lifelong love of the water.  The program is designed to give students a positive learning experience while progressing steadily through the skills. Each level includes swimming skills as well as water safety lessons both for pools and open water.  All levels follow the American Red Cross Learn-to-Swim program. REGISTER HERE
SPLASH PADS – May 1 – September 30
Summer is right around the corner! And just as things begin to heat up in LA County, our Splash Pads are returning to help you cool off this summer! Starting May 1, swing by one of our several locations for a fun and free activity for the entire family!

ADULT WATER EXERCISE – DATES AND TIMES COMING SOON! – Registration required
Water Exercise can conform to almost any individual needs, abilities or restrictions. You can adjust the size and speed of your movements to change the level of exertion that best fits your needs. Water exercise can be done no matter what your age, weight or physical fitness level is because water keeps the body buoyant and therefore does not unduly stress the joints and muscles. When doing water exercise, it is the water, not your legs, that supports your weight. This fact does make water aerobics or other types of water exercise wonderful for people who have suffered orthopedic injuries.  This program is offered to adults ages 18 and older and is conducted in both deep and shallow water. Participants must be comfortable in the water and have a proper bathing swim attire. REGISTER HERE
LA COUNTY JUNIOR GOLF – Free Registration Required
DAYS AND TIMES COMING SOON!
The LA County Junior Golf Program offers weeklong golf lessons for youth, ages 4-18, at various golf courses throughout the year. FREE golf lessons are provided in a safe, fun and organized learning environment, introducing the game of golf for beginner and intermediate juniors. Equipment is provided for those who do not have any. All registrations are received on a first come, first served basis and our available exclusively.
SUMMER CONTRACT CLASSES – Registration Required
LA County Parks and Recreation teamed up with some of the best instructors in Los Angeles to bring you hundreds of classes for all ages, levels and budgets. Take a class at your local park for some fresh air or join virtual classes from the comfort of your own home! Whether you're looking to be more active, learn a new hobby or take up a new skill or language, we have just the class to help you and everyone in your family achieve your summer goals. LEARN MORE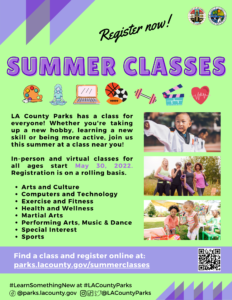 Click on one of the graphics above to learn more. 
OVERNIGHT FAMILY CAMPING – Registration Required
Camp under the stars this summer with LA County Parks! Join us on Fridays at one of five locations for a fun family fishing and camping events. Activities may vary by location. Please call each park site for more information. REGISTER HERE.

Click on one of the graphics above to learn more. 
OUR SPOT – YEAR ROUND
MONDAYS – FRIDAYS 3:00PM – 7:00PM
Our SPOT is a FREE, safe place for all teens in grades 7th-12th to connect and make a real difference in their communities through social action projects. Social Places and Opportunities for Teens supports positive youth development through recreational experiences offered by caring and trained staff who serve as mentors. Youth explore their identify and build confidence through social conscious curriculum on topics related to trauma-informed care and substance abuse prevention. Weekly artist experiences provide a space for youth to take up issues they care about using an artistic lens. LEARN MORE
DODGERS DREAMTEAM– $15 Registration
LA County Parks is proud to partner with the Dodgers Foundation for Dodgers Dreamteam The DDT Program is offer free to boys and girls between the ages of 5-18. Participants obtain basic baseball and softball skills through structured practices and organized recreational games. REGISTER HERE