Dive Into the World of Aquatics!
It's going to be a hot one this summer, LA County! LA County Parks is here to provide year round locations for you to visit and enjoy! Whether you are looking to get some light aerobic exercise in our Adult Aqua Exercise class, learning the building blocks with our Learn to Swim Program or mastering your skills through our Novice Swim Team (year round facilities only), LA County Parks has something for you! Explore below to see the numerous aquatics programs offered in the off-season!
Our online registration system allows you to manage everyone's schedule through a single household account. Sign up for Summer Classes for yourself and your loved ones from your smartphone or computer.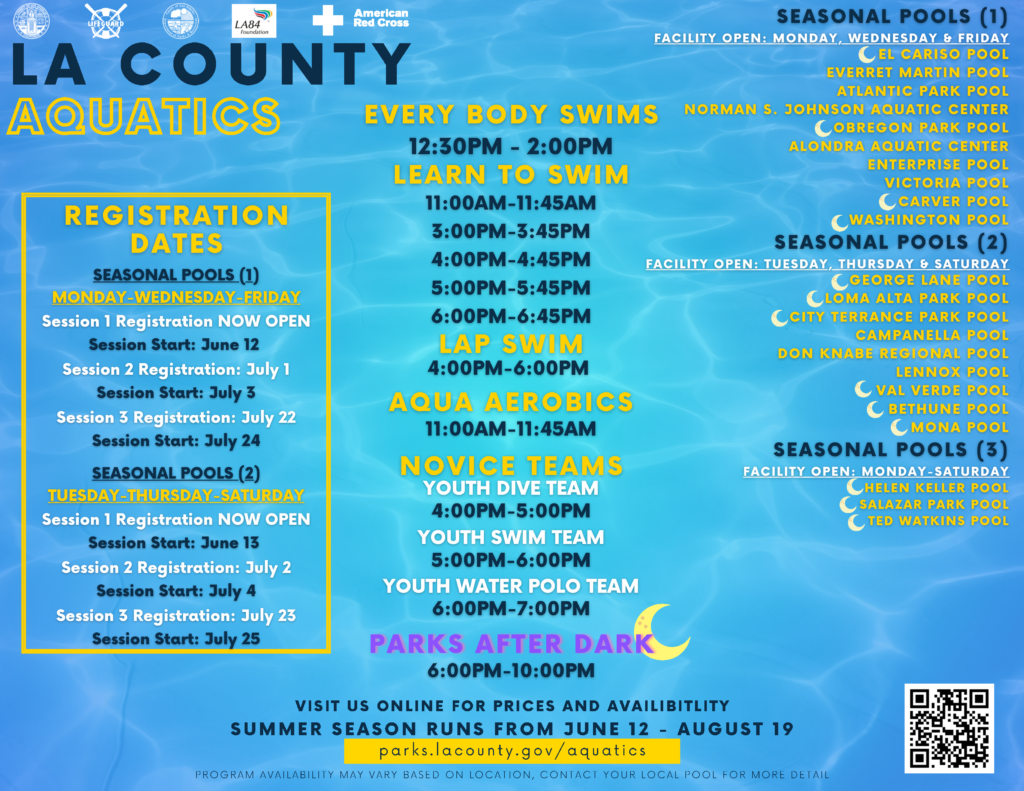 Swim Lesson Session Start Dates
Session 1: Begins June 12
Session 2: Begins June 26
Session 3:  Begins July 10
Session 4: Begins July 24
Session 5: Begins August 7
Registration Dates
Session 1: June 10
Session 2: June 23
Session 3: July 8
Session 4: July 22
Session 5: August 5
Splash Pads
It's going to be another hot summer, but LA County Parks has you and your family covered. Splash Pads are returning for the summer season! Splash Pads are family friendly and accessible way to cool off and beat the heat. And the best part, it's FREE! Bring your family to your local splash pad and marvel at the wonderful artisitic displays, splash around in the spurts of water and have fun all summer long.
Junior Lake Lifeguards
The Los Angeles County Parks and Recreation Junior Lake Lifeguard Program provides a challenging and exciting open water environment which promotes an active and responsible lifestyle for participants ages 9-17. For full program dates and details, visit the Junior Lake Lifeguards page.
Children under the age of 7 must have adult supervision at all times.
Ratio: No more than two children per one adult.
Rationale: All children under the age of seven need constant supervision. This rule will help staff enforce supervision. This may be a single child with one adult or two children with one adult. Adults need to be in regulation swim attire.
Adults without proper swimwear may observe children from approved designated areas. Applies only to children seven or older.
Rationale: Every effort is made to maintain the health and safety of pool patrons. The potential of transferring foreign substances from the park whether on shoes or clothing is high. We understand that many parents want to be able to supervise their children therefore, designated areas have been provided. Designated areas are on the outside of the pool fence unless this area is unavailable.
Use of pool is prohibited when a lifeguard is not on duty.
The County of Los Angeles is not responsible for lost or stolen articles.
Rationale: Patrons are encouraged to leave their valuables at home or in the car. We do provide a check-in area with staff. However, it would be safest left at home.
Swimmers Must Wear Appropriate Swimwear
With approval a white T-shirt may be worn over the swimsuit for additional sun protection. Proper swim wear is made from material that does not absorb large amounts of water such as board shorts, Speedos, and lined swim trunks. Note: Properly fitted rash guards are considered proper swim wear.
Rationale: Inappropriate swim wear takes on a lot of water and becomes heavy, causing a swimmer to work harder to stay on the surface. In addition, clothing that was not meant to be worn in the water will bleed dies cause unsanitary conditions in the water.
Patrons or spectators may not enter the pool area in street clothes. Proper swimwear is required by all patrons entering the pool deck area.
Rationale: Every effort is made to maintain the health and safety of pool patrons. Whenever someone walks into the facility from the parking lot or the park area the likelihood of them carrying some form of contaminant on their clothes or shoes is high, such as oil, fecal matter, etc. with patrons walking around and laying on the deck and then getting into the water, this becomes a concern for the health and safety of all who swim at the facility. Therefore; we ask that all patrons entering the swimming pool area have on proper swim attire which is clean and also, that they take a shower as per the health departments guidelines for safe waters.
Only approved items may be brought out to the pool deck area (i.e. sunglasses, goggles, towels, etc.). No strollers, chairs, coolers, bags, etc.
Rationale: In addition to the concern of transferring foreign matter into the pool deck area, these items can pose additional safety concerns such as tripping hazards, concealed weapons, etc. It is essential that a safe environment is provided to all patrons.
Persons with any type of contagious disease, skin rash, open sores, or wounds are not permitted.
Rationale: County health code prohibits entry into a public pool with any of the above mentioned conditions in an effort to minimize the spread of contagious disease.
Soap showers are required before entering the pool.
Rationale: Health and safety (State Code Section 116043). To meet local and state health codes. Taking a soap shower will reduce the amount of foreign substances introduced into the pool.
All Oil, Grease and Foreign Substances Must be Removed from Your Body Before Entering the Pool (sunscreen is permitted).
Rationale: The introduction of foreign substances such as oils, creams and grease will impair filtration equipment and scum gutters (State Code Section 116043)
Play equipment or foreign objects are not permitted in the pool except during organized activities.
Rationale: Foreign objects in the water may be hazardous to others and may give parents a false sense of security in regards to flotation devices. Only during organized activities the use of teaching aid devices (i.e. swim fins, kick boards, aqua noodles, swim goggle, and water polo balls) can be controlled as well as supervised.
Running, rough play, profanity or spitting is not permitted on the premises.
Rationale: To insure and maintain a clean and safe environment and reduce the risk of injury running, rough play, profanity and spitting should not be permitted.
Persons under the influence of alcohol or drugs are not permitted on the premises.
Rationale: Persons impaired by drugs or alcohol may be a danger to themselves as well as others using the facility. According to County of Los Angeles ordinances (County code 17.04.440 / 17.04.450), it is illegal to be on the premises of any county facility while under the influence.
Glass in not permitted in the pool area
Rationale: A hazardous Condition may be created. Broken glass is impossible to see if it were to enter the pool water. May cause injury to feet.
Eating is not permitted on the pool deck or in the pool building.
Rationale: Creates an unclean environment. Will attract unwanted pests.
Diving is not permitted in shallow area of the pool or in areas posted as No Diving.
Rationale: Safety issue. Neck and back injury may result in diving in less than five feet of water.
Patrons use diving facilities at their own risk.
Rationale: Safety issue. Diving rules are posted near the diving boards. Patrons should be aware of their individual limitations.
Lewd conduct is not permitted on premises
Rationale: Parks and Recreation serves families and youth from the surrounding communities and is adamant about protecting those youth therefore, lewd conduct of any nature is prohibited.
Lifeguarding with LA County is a great opportunity for young adults in school looking for part time employment or looking for a career as a first responder. It comes with a flexible schedule, a fantastic team and pays well more than minimum wage. And this summer, LA County Parks is looking to hire over 250 new guards for Summer 2022 across our 30+ facilities. Visit our Lifeguard Recruitment page for a full list of upcoming lifeguard swim tests dates and locations, along with necessary pre-requisites.
To become a Pool Lifeguard, APPLY HERE.