Scouting comes to LA County!
THIS YEAR, BRING THE GREAT OUTDOORS A LITTLE CLOSER TO HOME!
Scouting enables youth to do fun, safe activities both indoors and outdoors while learning about what the environment has to offer them. We encourage discovering new things, mastering life skill, promoting positive character, teamwork and developing the leadership traits need needed to succeed in the world.
Scouting is divided into two main areas based on age and development- Cub Scouts and Traditional Scouts
Cub Scouts
Cub Scouts Division is a year-round adventure program that allows youth in kindergarten to fifth grade to enjoy some of the benefits and activities of scouting, preparing them for traditional Scouting. Cub Scouts have fun and go places with their family, friends, and neighbors. Cub Scouts earn awards with requirements that develop self-responsibility, confidence, and willingness to help others.
Activities include Crafts, Field Trips, Nature Walks, Pinewood derby
Traditional Scouts BSA
Scouts BSA is a movement that aims to support young people in their physical, mental and spiritual development, that they may play constructive roles in society, with a strong focus on the outdoors and survival skills. Advancement is awarded upon mastery or completion of skill, participation and/or activity.
Activities include Camps, Hikes, Archery, Fishing, Wood Working, Merit Badge
The Boy Scouts of America is one of the nation's largest and most prominent values-based youth development organizations. Scouting's goal is to develop the future leaders of this country by combining educational activities and lifelong values with fun.

LOCATIONS
Belvedere Community Regional Park
4914 East Cesar E Chavez Avenue
Los Angeles, CA 90022
Recreation Services Supervisor: Anthony Brand
(323) 260-2342 //  abrand@parks.lacounty.gov
Earvin "Magic" Johnson Park
905 E El Segundo Blvd
Los Angeles, CA 90059
Recreation Services Manager:

CALLING ALL VOLUNTEERS!
The Greater Los Angeles Area Council (GLAAC), Boy Scouts of America (BSA) is committed to delivering outstanding and sustainable Scouting experiences across Los Angeles County. The Department of Parks and Recreation (DPR) is committed to providing Black, Indigenous, and People of Color (BIPOC) youth and their families with after school experiences intended to build positive youth development through leadership and mentoring opportunities.
Through an innovative partnership with DPR and GLAAC BSA, both organizations are committed to leveraging resources to carry out a mission of equity and inclusion that ensures youth have access to Scouting in some of the most unique and diverse communities and outdoor settings, such as parks, trails, open space, campgrounds, nature centers and aquatics.
This partnership will elevate the central role that the outdoors and nature has in shaping youth and will emphasize DPR's signature Environment, Science, Technology, Engineer, Arts and Mathematics (ESTEAM) programming.
Make a difference! Become a volunteer at parks.lacounty.gov/volunteers
REQUIREMENTS
Any and all that wish to become volunteers for this pilot program between LA County Parks and Boy Scouts of America must:
Be 21 years old or older

Complete a Live scan background check

Complete Membership application with BSA

Be fully vaccinated against COVID-19

Complete required 5.5 online training program

2 hours of youth protection training
2 hours of Boy Scout volunteer expectations and protocol
90 minutes of Cub Scout and Scouts Basics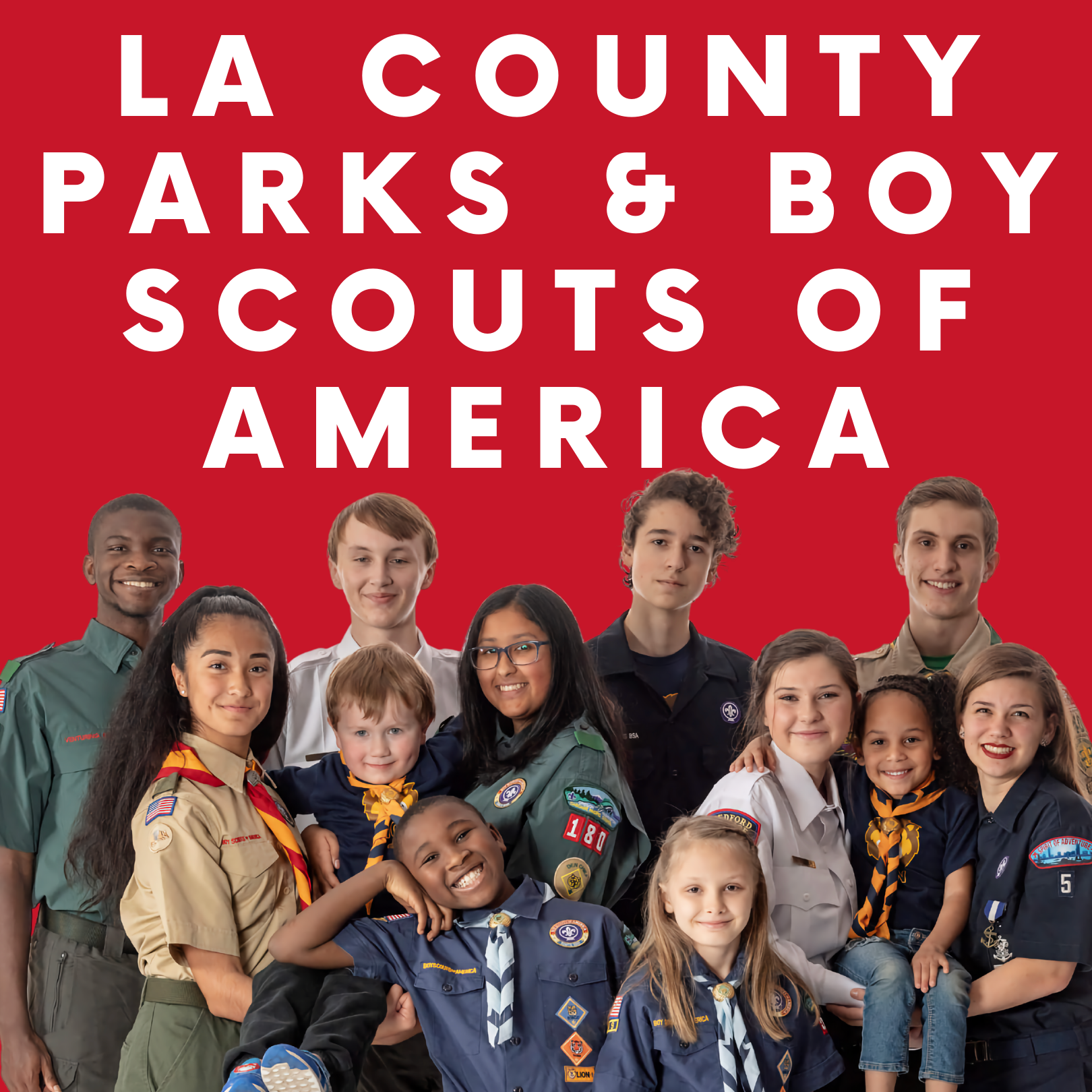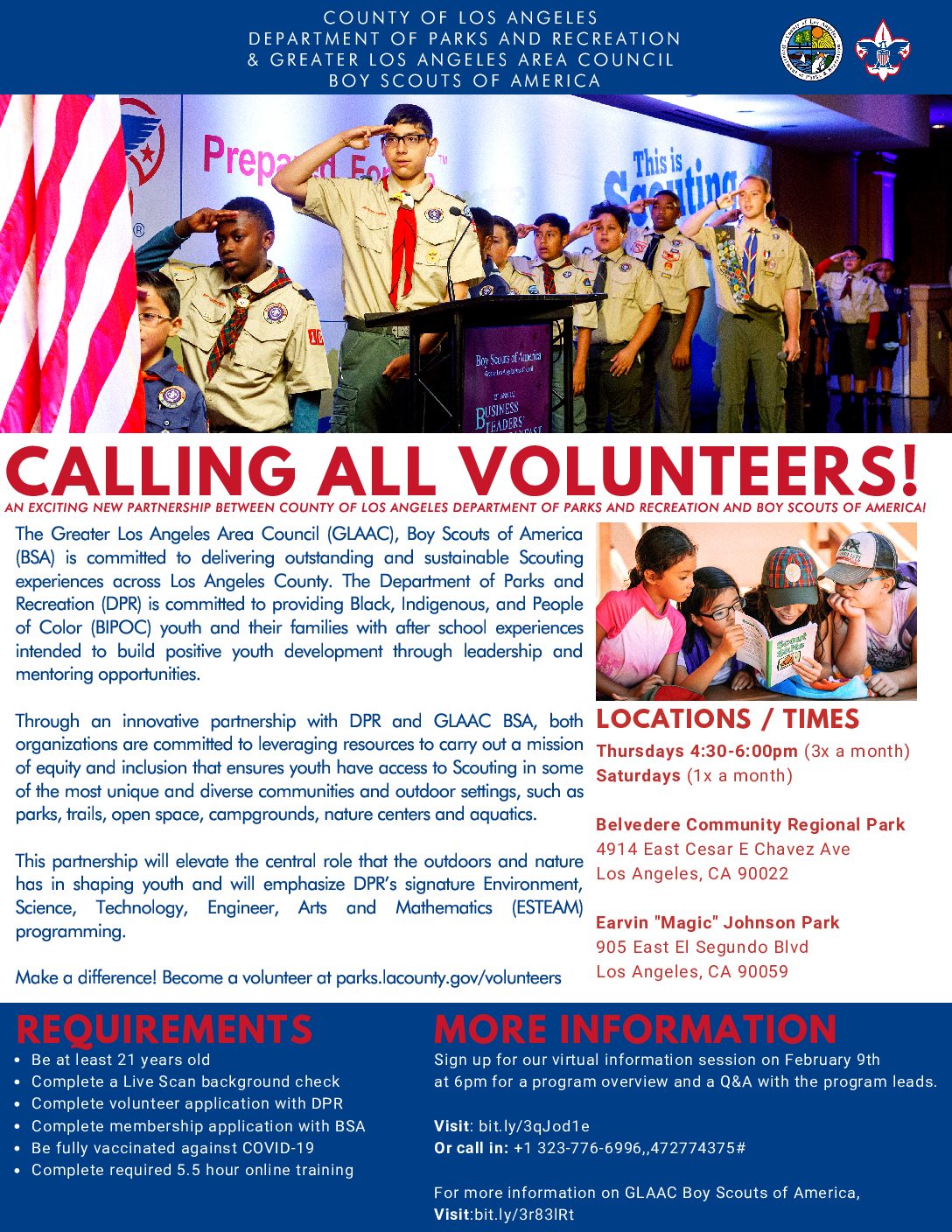 Applications