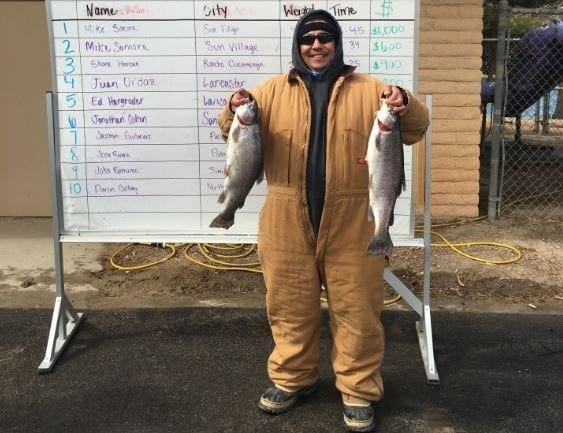 Three times a year, residents from across Northern Los Angeles County gather at beautiful Apollo Community Regional Park in Lancaster for the Apollo Park Fishing Derby.
The Spring Adult Fishing Derby was held  March 3, and was a hit with anglers from around the County. Although it was a cold and wet morning, hundreds of anglers showed up for their chance at winning one of the cash prizes.
The grand prize winner Mike Samora of Sun Village, who brought in both a 4.12-pound and 4.11-pound Rainbow Trout to win first and second place and $1,600 in prize money.
The Fall Adult Fishing Derby is held every first Saturday in November. The cost is $20 per person to enter.
For kids who love to fish, the Department of Parks and Recreation holds a children's fishing derby on the first Saturday of May. This fishing derby is free-of-charge, and prizes are given out to both boys and girls of various age groups.
Apollo Community Regional Park has a long and fascinating history. It was dedicated in 1972 and was named after the Apollo 11 moon expedition astronaut crew. Each of the three interconnected lakes inside the park is named after one of three Apollo 11 astronauts: Buzz Aldrin, Neil Armstrong and Michael Collins.
Aldrin has previously noted that it was very fitting that the Los Angeles County Board of Supervisors named the Apollo Regional Community Park lakes in honor of astronauts, who spent much of their professional careers at nearby Edwards Air Force Base.
Although there are other aquatic species present in the lakes, they are stocked with only Rainbow  Trout. But, have you ever wondered how the fish get stocked into the lakes?
The Department stocks the lakes with Rainbow Trout twice a month October through May. Outside of those months, we do not stock the lakes. For our three annual fishing derbies at Apollo Park, we also purchase additional prize fish on top of the normal amount twice a month for stocking.
We hope to see you out at Apollo Community Regional Park for one of our fishing derbies, or just to come out and enjoy being close to nature. Check our Facebook page or events calendar for information about the upcoming fishing derby.