Award recognizes Wicker's implementation of drowning detection system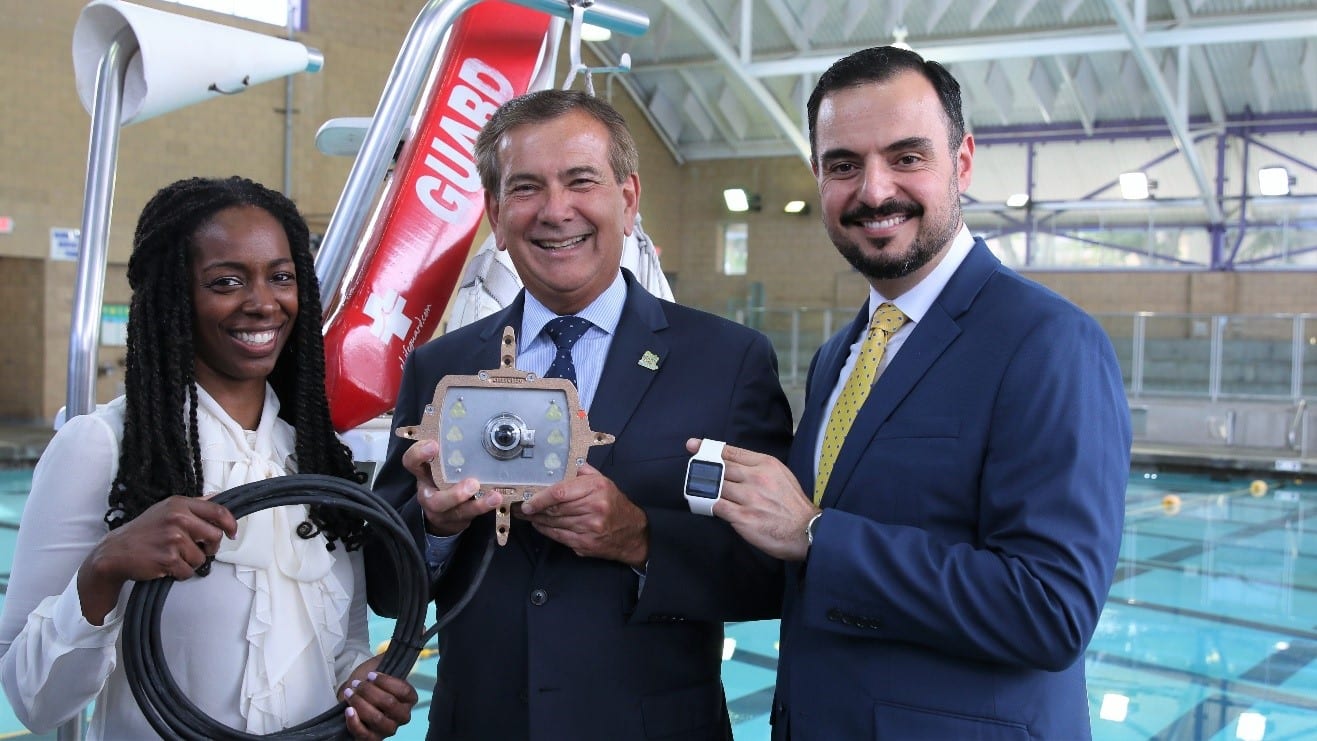 UCLA IS Associates, a member-based executive IT leadership organization, has selected Department of Parks and Recreation Director John Wicker for its annual Executive Leadership Award in the Public Sector category.
Wicker was recognized for leading the implementation of a state-of-the-art drowning detection system that uses advanced artificial intelligence to analyze video feeds from underwater cameras sending timely alarms to smart watches worn by county pool lifeguards.
This drowning detection system was developed in Europe, and the Department of Parks and Recreation is the first municipality to use it in the U.S. It is currently installed at Jesse Owens Swimming Pool in South Los Angeles.
The system, deployed in October 2017, boasts proven effectiveness and has reduced the time for pool lifeguards to detect and pinpoint the location of a potential drowning  from 10 seconds to 1.5 seconds.
"The IS Associates Executive Leadership Award is a particularly distinctive element of the IS Associates," said Jim Davis, Vice Provost of Information Technology and Chief Academic Technology Officer at UCLA. "As we are all experiencing the acceleration of digitization, the award is a recognition of how technology really affects people, and how we live and interact on this planet."
Added Don Olender, executive director of IS Associates: "This year's recipients of the Executive Leadership Award join a long and illustrious list of previous honorees, who also share that same insight – that the innovative use of technology in their businesses will always provide real opportunities, drive immense value and influence positive outcomes."
As the director of the Department of Parks and Recreation, Wicker is responsible for the operation, management and maintenance of more than 70,000 acres of park land and 182 parks, including 40 swimming pools and 20 golf courses that comprise the largest municipal public golf system in the country. Additionally, Wicker oversees more than 200 miles of multi-use trails, the John Anson Ford Amphitheatre, and the world-famous Hollywood Bowl.
He also administers the Department's annual operating budget of more than $240 million, as well as 2,400 full-and-part-time employees serving more than 50  million park visitors each year.
Wicker accepted his award during the IS Associates 2018 Executive Leadership Awards Dinner held Nov. 8 at UCLA's Carnesale Commons. Other Award recipients included Jeff Dailey, CEO of Farmers Insurance Group, who received the Corporate Enterprise award; and Travis VanderZanden, founder and CEO of Bird, who received the Start-Up/Entrepreneurial Award.