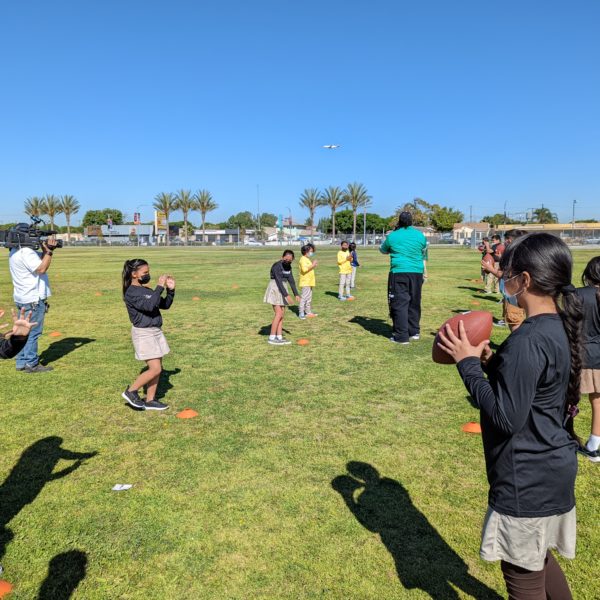 About Park on the Move:
Functioning as a park on wheels, the Super Bowl Legacy Mobile Recreation Play Program will serve communities with limited park and recreation space, to meet youth in their neighborhoods and provide them an opportunity to play for years to come. Play is one of the most powerful experiences that contributes to overall individual well-being and healthier communities.  Mobile playground experiences will lead to improved physical fitness and social skills and serves as an outlet to relieve stress and heal from trauma.
Park on the Move is FREE program designed for school-age children 6 to 13 years old. It brings the power of play and physical fitness to schools located in LA County unincorporated areas. Park on the Move removes all barriers to participation in out-of-school-time recreational experiences and will build a lifelong appreciation for play. Some activities include a mobile skatepark (equipment included), sports, arts and crafts, and games led by trained and caring staff.
NO registration is required.
No programming on inclement weather days.
LOCATIONS:

Unincorporated Lennox
· Buford Elementary School: 4919 W 109th St, Inglewood, CA 90304 | Mondays & Thursdays – 3:00 PM – 4:30PM
Unincorporated Westmont
· New Providence Baptist Church: 10200 Normandie Ave, Los Angeles, CA 90044 | Wednesdays & Saturdays – 2:30 PM – 4:00PM
Unincorporated Bassett
· Sunkist Elementary School: 935 Mayland Ave, Bassett, CA 91746 | Mondays & Thursdays – 2:30 PM – 4:00PM
Park on the Move, Mobile Recreation will be a drop in program.
The site selection is almost complete. However, please contact the mobile recreation office number with inquiries: (310) 965-8630