Explore • Engage • Connect
Visit LA County Parks this winter for fun, recreation and adventure! We are offering a variety of new, FREE and paid programs for youth and families, ranging from sports clinics and nature exploration programs to aquatics and many other exciting programs that you'll find below. Whether it be one or all of these activities, there's something for every body this winter with LA County Parks!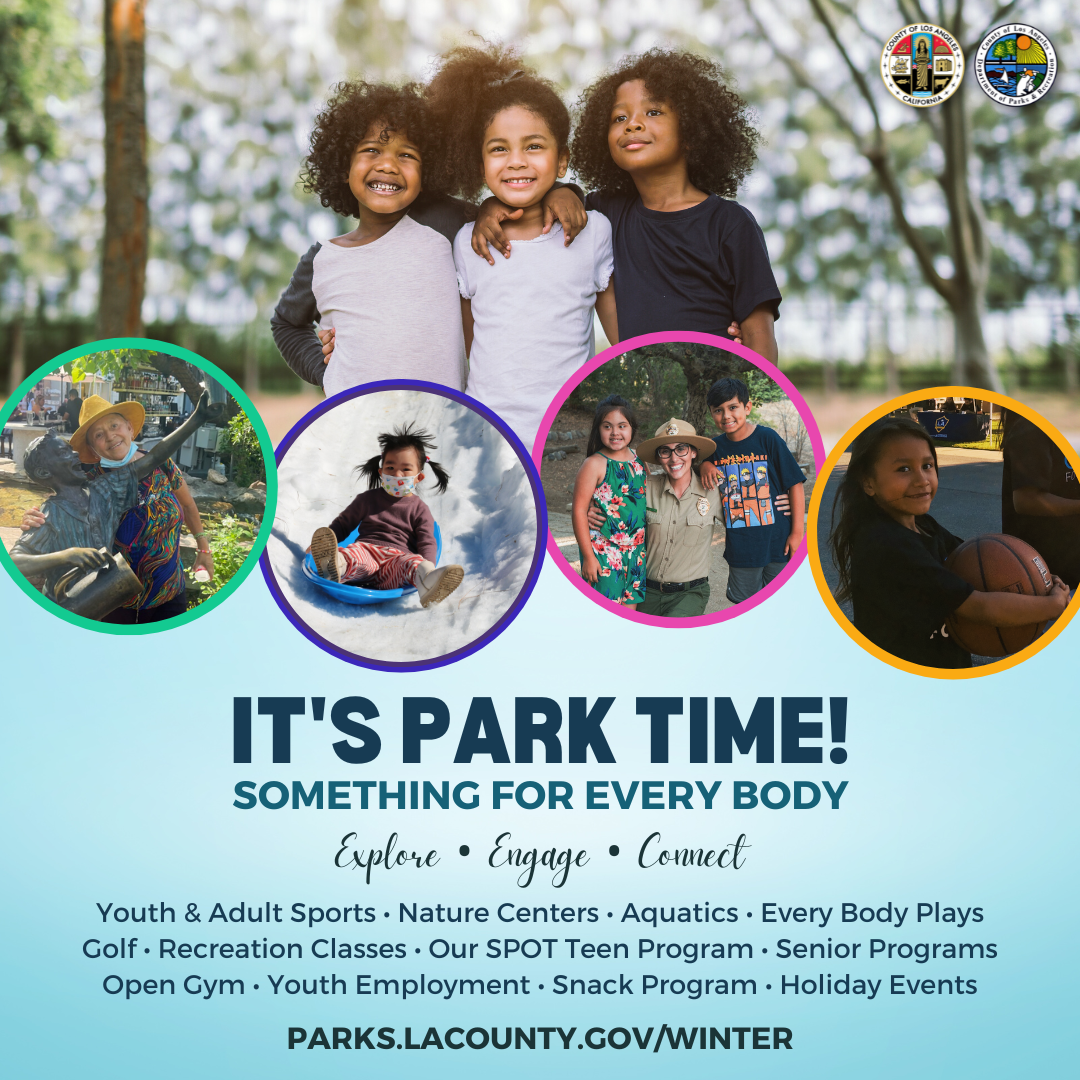 EVERY BODY PLAYS
October 12, 2021 – May 27, 2022
MONDAY – FRIDAY | 2:30pm-5:30pm
AGES: Youth
Participate in fun, winter afterschool activities for FREE at your local LA County Park! Join us one at one of 55 LA County Parks locations for our Every Body Plays Drop-In Afterschool Adventures program that offers a safe space where youth can come play, create friendships and partake in activities such as fitness, self-care, sports, arts, games, creative outlets like storytelling and ESTEAM (Environment, Science Technology, Engineering, Arts and Math).
Registration NOT required!
FREE SNACK PROGRAM
October 12, 2021 – May 27, 2022
MONDAY – FRIDAY | 3:00pm-4:00pm
AGES: Youth
Children and youth ages 18 and under receive a "grab and go" nutritious snack that include vegetables, fruits, seeds and healthy dairy products like milk, string cheese and yogurt, at 46 locations. This free nutrition program will run for a total 35 weeks. Please see dates below for when the program will not be offered due to county holidays.
Registration NOT required!
Every Body Explores
December 5, 2022 – February 25, 2023
TUESDAY – FRIDAY 2:30PM – 4:30PM // SATURDAY 10:00AM – 1:30PM
The Every Body Explores program provides participants of all ages an opportunity to explore Natural Areas parks through educational hand on activities and the ability to check out a Naturalist field backpack. Participants can complete self-guided activities, make observations & explore the park!